Khejri, the tree that inspired Chipko movement, is dying a slow death
In 1730 AD, a small village located 26 km south-east of Jodhpur in Rajasthan witnessed probably the first and most fierce environment protection movement in the history of the country. Amrita Devi of Khejarli village and her three young daughters laid down their lives to protect the sacred trees which the ruler of Marwar Maharaja Abhay Singh had ordered to be cut down for building his new palace. This inspired other members of the community and a total of 363 people sacrificed their lives in coming days trying to save the trees by hugging them while the king's men chopped their bodies with axes. The 'martyrs' belonged to Bishnoi community and the trees which they were protecting were 'Khejri'. In 1970s, this sacrifice became the inspiration behind the Chipko Movement.
However, two centuries on, the story has a twist. In 2015, the Central Arid Zone Research Institute (CAZRI) took out a report which stated that the number of Khejri trees per hectare in the 12 dry districts of Rajasthan had dropped to less than 35 per cent. This, the report stated, was happening because of a very high mortality rate owing to factors like decrease in groundwater level, fungal attacks, indiscriminate cutting, etc.
But what makes the Khejri so important and why is there a need to talk about its declining numbers?
Importance of Khejri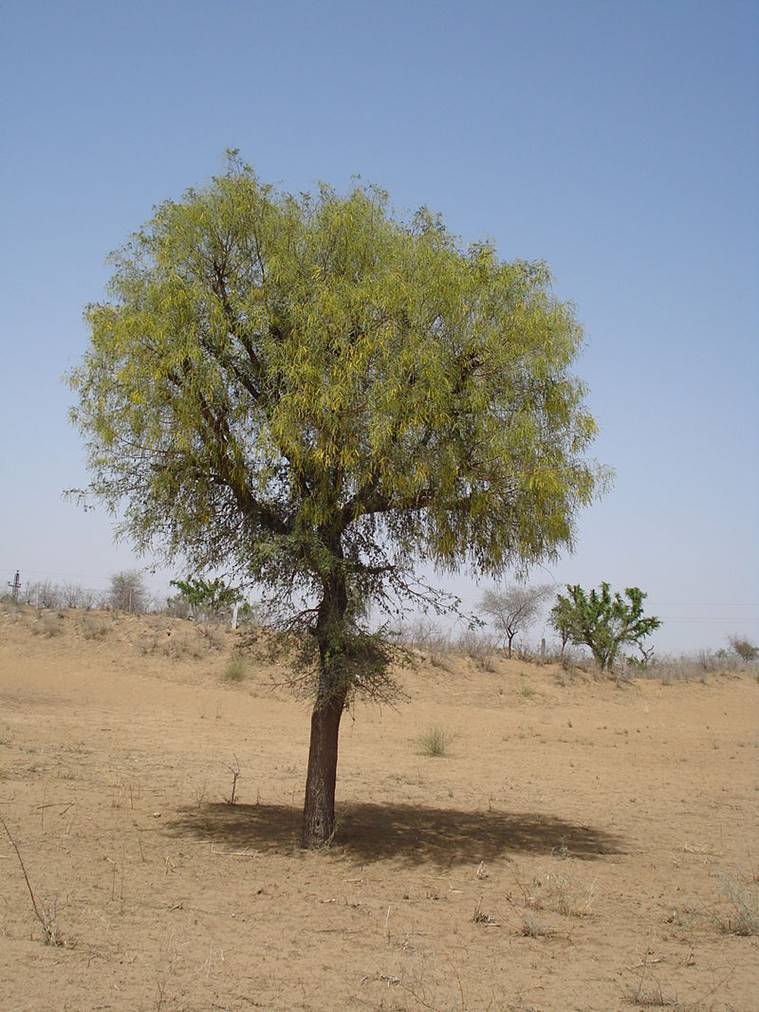 Khejri tree in Rajasthan. Wikipedia photo
Culturally, the tree holds a very important place in lives Rajasthani people, especially the Bishnois. The tree (Prosopis cineraria) is considered as sacred as 'Tulsi' by many giving it an important religious significance. "Before we begin construction of a new well, we offer prayers under a Khejri tree. During Janmashtami, we worship the branch of this tree to offer our respects to a local deity 'Goga ji'," says Bajranglal Sharma, headmaster of GUPS Nayi Dhani in Khetri, Rajasthan.
As per local mythology the 'Pandavas' hid their weapons under this tree when they were on exile. Moreover, the tree's branches are also used as a good luck charm during the weddings.
There is a significant economic and environmental importance too. The Khejri tree plays a vital role in maintaining the ecosystem of the dreary Thar region because of its ability to survive in such tough conditions and the different ways in which it can be used by the farmers. Apart from being a source of firewood and fodder, the Khejri also helps in sustaining the nutrient value of the soil and ensuring a good yield.
In addition, the fruit is used to make the very popular local dish 'Sangri' and can fetch up to Rs 300 per kilo for the farmers. "Khejri bark is used medicinally for a range of ailments and can be ground up and made into flour, and famously, saved thousands of lives during the Great Rajputana Famine of 1868. The flowers make an amazing bee-fodder. Even the timber is useful," says environmentalist Pradip Krishen.
The possible impact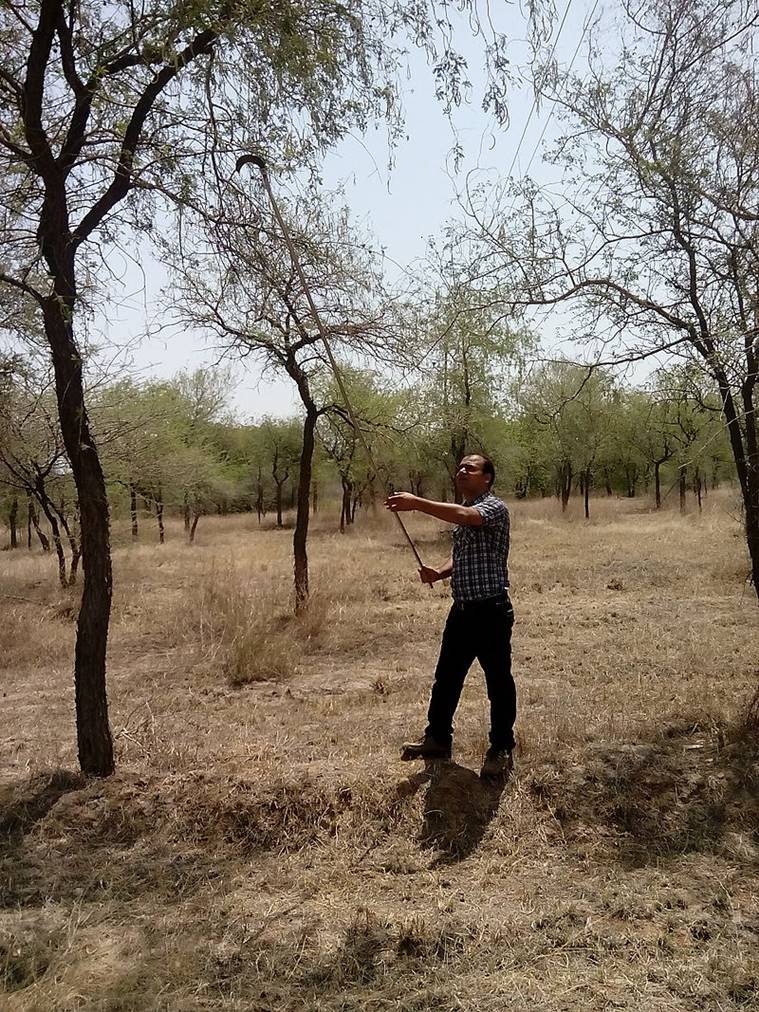 Cutting the Sangri fruit from Khejri tree. Wikipedia photo
As of now, the locals and scientists suggest that the impact of this decline has not been severe but it has affected the farmers. "A marginal reduction in fuelwood and fodder production was observed in some districts between 2005 and 2013," says Dr Tarun Kant, scientist and researcher associated with Arid Forest Research Institute (AFRI).
However, Ravinder Dharnia, in-charge of Akhil Bhartiya Bishnoi Mahasabha in Rajasthan, says that the decreasing number of Khejri has impacted the culture and economics in some way. He also added that there has been an increase in awareness regarding this and some steps are being taken for its conservation. "We are working towards promoting commercial plantation of the Khejri tree. I myself have planned on growing only Khejri on a large part of my land. Similar efforts are being undertaken by others," said Ravinder Dharnia.
Efforts are also being made by State Forest Department, CAZRI and AFRI to raise awareness among farmers, working on remedial measures and raising seedlings. "If the villagers start planting khejri saplings, in years to come the situation should hopefully start improving," says Tarun Kant.
On the other hand, there are also many loopholes in the policies and their implementation. Talking to locals reveals that even though there is a complete ban on cutting of healthy trees, the practice goes on brazenly. Similarly, the other measures adopted to control mortality and promote plantation of new trees seem to have not reached the grassroots in an efficient manner.
"I have observed that the forest department has planted only neem and Israeli babool on the roadside. It is shocking to see that the authorities cannot see that native trees would not only do extremely well but would also look terrific as roadside trees," said Pradip Krishen.