Ministry of Commerce & Industry
World Bank's Ease of Doing Business Report 2020
India has made a remarkable jump in the World Bank's Ease of Doing Business Report 2020. It is ranked 63rd among 190 countries improving by 14 ranks from its rank of 77 in 2019.
The 2020 edition of the Report acknowledges India as one of the top 10 improvers, third time in a row, with an improvement of 67 ranks in 3 years. It is also the highest jump by any large country since 2011.
The World Bank will now include Kolkata and Bengaluru, besides Delhi and Mumbai, for preparing ease of doing business reports, in order to provide a holistic picture of the business environment of the country.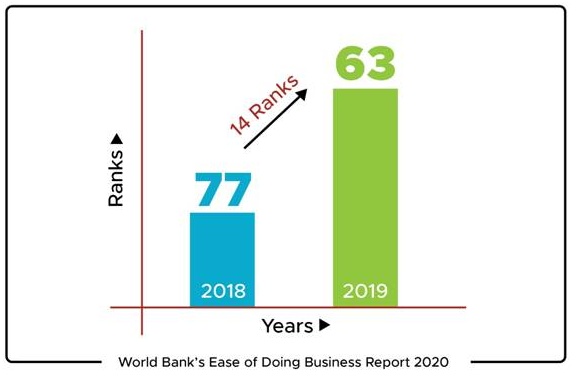 Essential Features of India's Performance
India's ranking improved basically on four parameters:
Starting a Business- India made starting a business easier by fully integrating multiple application forms into a general incorporation form,
Dealing with Construction Permits- For example, building a warehouse cost around 4% of the warehouse value as compared to 5.7% in the previous year,
Trading across Borders- with a single electronic platform- improved electronic submission methods for documents and upgrades to port infrastructure, import and export process became easier, and
Resolving Insolvency- Recovery rate under resolving insolvency has improved significantly from 26.5% to 71.6%. Also, the time taken for resolving insolvency has also come down significantly from 4.3 years to 1.6 years.
Global Innovation Index (GII)
In the past 4 years India's rank in the GII has improved from the 81st rank in 2015 to the present 52nd rank in GII 2019 report.
India became the first developing country to launch the Global Innovation Index (GII) in association with World Intellectual Property Organisation (WIPO) and Confederation of India (CII).
India's rankings have been consistently increasing over the last few years and are among the top in the world in innovation drivers such as Information and Communication Technology (ICT), services exports, graduates in science and engineering, the quality of universities, gross capital formation (a measure of economy-wide investments) and creative goods exports.
India stands out in the world's top science and technology clusters, with Bengaluru, Mumbai, and New Delhi featuring among the top 100 global clusters.
India continues to be the most innovative economy in central and southern Asia (a distinction held since 2011).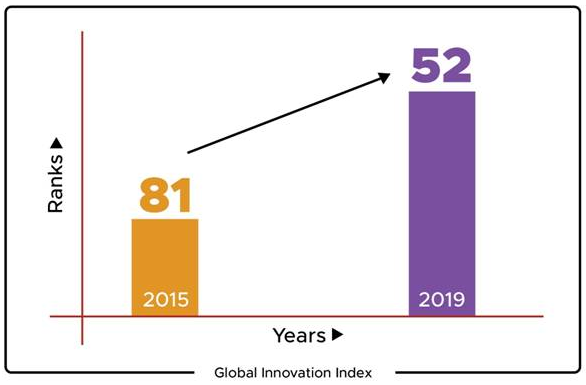 Global Performance
Switzerland tops the GII index followed by Sweden, United States of America, Netherlands, United Kingdom, Finland, Denmark, Singapore, Germany and Israel.
The theme of GII- 2019 (12th edition) is "Creating Healthy Lives – The Future of Medical Innovation" which aims to explore the role of medical innovation as it shapes the future of healthcare.