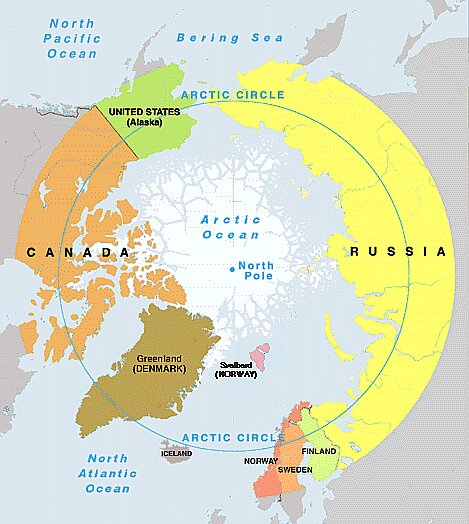 The Arctic Council is the leading intergovernmental forum promoting cooperation, coordination and interaction among the Arctic States, Arctic indigenous communities and other Arctic inhabitants on common Arctic issues, in particular on issues of sustainable development and environmental protection in the Arctic.
The Arctic Council works as a consensus-based body to deal with issues such as the change in biodiversity, melting sea ice, plastic pollution and black carbon.
History of Arctic Council
The formation of Arctic Council can be traced in the establishment of the Arctic Environmental Protection Strategy (AEPS) in 1991 as a framework for intergovernmental cooperation on environmental protection initiatives among the Arctic States including Canada, Denmark, Finland, Iceland, Norway, Sweden, Russia, and the United States.
The AEPS tried to consult and engage Arctic indigenous people in recognition of their right over their ancestral homelands.
Three Indigenous Peoples Organizations (IPOs) representing Inuit (Inuit Circumpolar Council, ICC), Saami (Saami Council, SC), and Russian indigenous peoples (Russian Association of Indigenous Peoples of the North, RAIPON), respectively, were welcomed as observers in the AEPS.
As a consequence of a growing recognition of the special relationship of indigenous peoples to the Arctic region, the Arctic countries assigned the special status of Permanent Participants (PPs) to the three IPOs, thereby giving them a privileged status compared to the other AEPS Observers.
Formation of the Arctic Council
The Arctic Council is a high-level intergovernmental body set up in 1996 by the Ottawa declaration to promote cooperation, coordination and interaction among the Arctic States together with the indigenous communities and other Arctic inhabitants.
The Council has the eight circumpolar countries as member states and is mandated to protect the Arctic environment and promote the economies and social and cultural well-being of the indigenous people whose organizations are permanent participants in the council.
Arctic Council Secretariat: The standing Arctic Council Secretariat formally became operational in 2013 in Tromsø, Norway.
It was established to provide administrative capacity, institutional memory, enhanced communication and outreach and general support to the activities of the Arctic Council.
The Council has members, ad hoc observer countries and "permanent participants"
Members of the Arctic Council: Ottawa Declaration declares Canada, the Kingdom of Denmark, Finland, Iceland, Norway, the Russian Federation, Sweden and the United States of America as a member of the Arctic Council.
Denmarks represents Greenland and the Faroe Islands.
Permanent participants: In 1998, the number of Permanent Participants doubled to make up the present six, as,the Aleut International Association (AIA), and then, in 2000, the Arctic Athabaskan Council (AAC) and the Gwich'in Council International (GGI) were appointed Permanent Participants.
Observer status: It is open to non-Arctic states, along with inter-governmental, inter-parliamentary, global, regional and non-governmental organizations that the Council determines can contribute to its work. It is approved by the Council at the Ministerial Meetings that occur once every two years